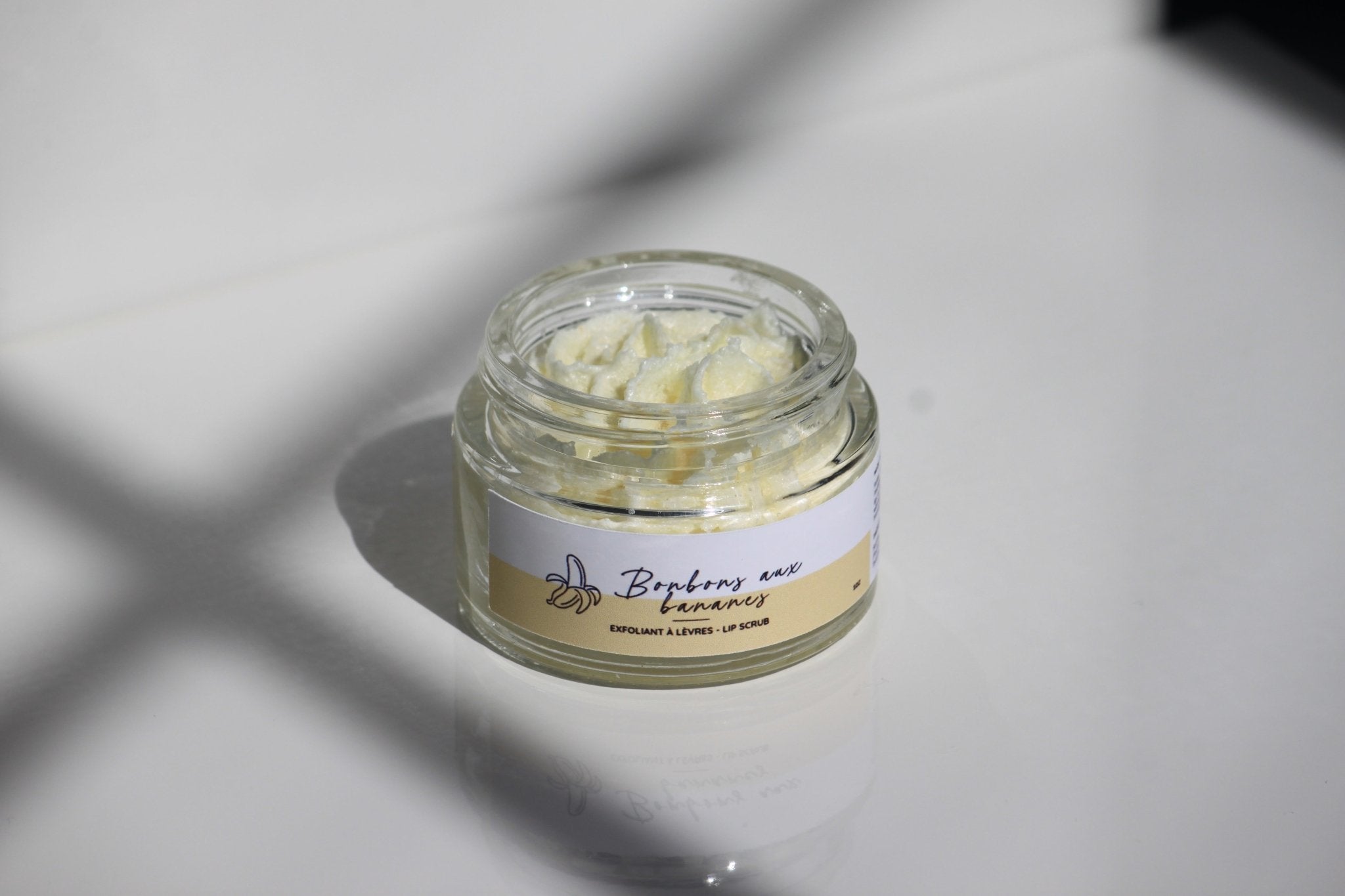 EDIBLE LIP EXFOLIANT 
NOSTALGIA in a jar! Oh yes! Do you know banana syrup when we were kids? Or the hard banana candies in vending machines in shopping malls? IT TASKS EXACTLY THAT! 🍌🍌
ARTICLE DETAILS:
METHOD:
1- Take a small amount with your finger 
2- Gently rub on the lips to exfoliate and remove dead skin
3- Lick your lips after exfoliating them to enjoy the delicious flavor (Yes, yes! The exfoliant is edible! Yummm)

Use as needed. It is preferable to moisturize the lips after using the exfoliant with the lip balm also available in this flavor for example. 

CAUTION, can be addictive 🤪🤪🤪 


INGREDIENTS:

Sugar: exfoliating agent / eliminates dead cells
Mango butter: healing vegetable moisturizer, ideal for dry and dehydrated skin
Sunflower oil (replaces sweet almond oil): soothing, softening and nourishing vegetable oil
Natural flavor: gives the delicious taste
Natural powder coloring: for a funky side! (does not dye / color the lips)
INCI: Sucrose, Mangifera indica, Prunus amygdalus dulcis (almond) oil, flavor, micas, iron oxide, ultramarines. 


*** Caution: Do not use if you have ALLERGIES to almonds, mangoes (mango butter) or any flavor. The different flavors may have been in contact!
Stop use if there is a problem with the product (irritation, allergy, etc.)
Weight: 30ml (1oz) or 60ml (2oz)
Tous nos produits sont fabriqués à la main au Québec à base d'ingrédients naturels et véganes. Ils sont non testés sur les animaux. Toutes nos fragrances sont sans parabènes et sans phtalate.
Frais de livraison à 9,99$ en tout temps ou GRATUITE pour toutes commandes de 80$ et plus.
Délicieux
Si vous aimez les bonbons à la bananes, cet exfoliant sera votre meilleur ami et votre pire ennemie en même temps. J'adore la sensation et le goût qu'il laisse sur les lèvres, mais oh la la que j'ai envie de manger le pot au complet!
Devrait venir avec un avertissement qu'il faut du self control pour ne pas le manger.
miam!
J'en metterais tous les jours, wow!
Meilleur saveur et que dire du produit!
Ma saveur pref à vie 😍 Je l'ai reçu en cadeau d'une amie & la shop a été ma découverte 2020 par le fait même! Cette saveur est extraordinaire, ce produit, cette qualité : juste wow! J'ai toujours été satisfaite, et depuis, je fais des collections de produits de LA SHOP A SAVONS 👌🥰
J'adore!!
Le meilleur exfoliant à lèvres que j'ai essayé! En plus, cette senteur/saveur est incroyable et m'apporte beaucoup de souvenirs d'enfance!